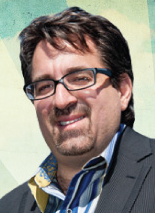 ORLANDO, FL – Mike Sperduti (pictured) urged Medtrade attendees last week to ditch the negative "upsell" term in favor of "upcare" in a one-hour presentation titled, Upcaring: The Key to Cash Sales.
"I have gotten snickers when I talk about love and selling," says Sperduti, founder of Emerge Sales and co-host of HME Voice. "If your intention is loving and caring about your patients, you are going to sell the hell out of your products. You can bring value to patients and their families."
Sperduti maintains that the art of cash sales is a learned skill that transcends the mere pursuit of money. "Ask yourself: 'Would you recommend the product to a loved one?'" says Sperduti. "You create happiness when you do your jobs right, and you do immeasurable sadness when you do your jobs wrong. Your people need to understand how important that they are."
According to the results of a survey conducted by Sperduti, increasing sales via the Internet may not be a good use of time for those looking to go after the older demographic. "About 94% of seniors [in the survey] did not do online research on the provider before ordering," he says. "They trust their caregivers to make the recommendation."
Mike Sperduti's entire presentation (including many more survey results), along with numerous other informative sessions, will soon be available for purchase via the Medtrade Digital Conference. More information on price and availability will be coming soon in the next issue of Medtrade Monday.