SCHERERVILLE, IN – The chief operating officer at Fairmeadows Home Health Center grew up with the HME industry, but after graduating from Purdue University with a degree in Accounting, George M. Kucka did not follow his dad into the family business. Instead, the newly minted grad headed for the corporate world, working his way up to Controller at a manufacturing company.
After a dozen years, Kucka went looking for other opportunities. After talking with his dad (George S. Kucka), he decided to join the family business in spite of, or perhaps because of, the inherent challenges.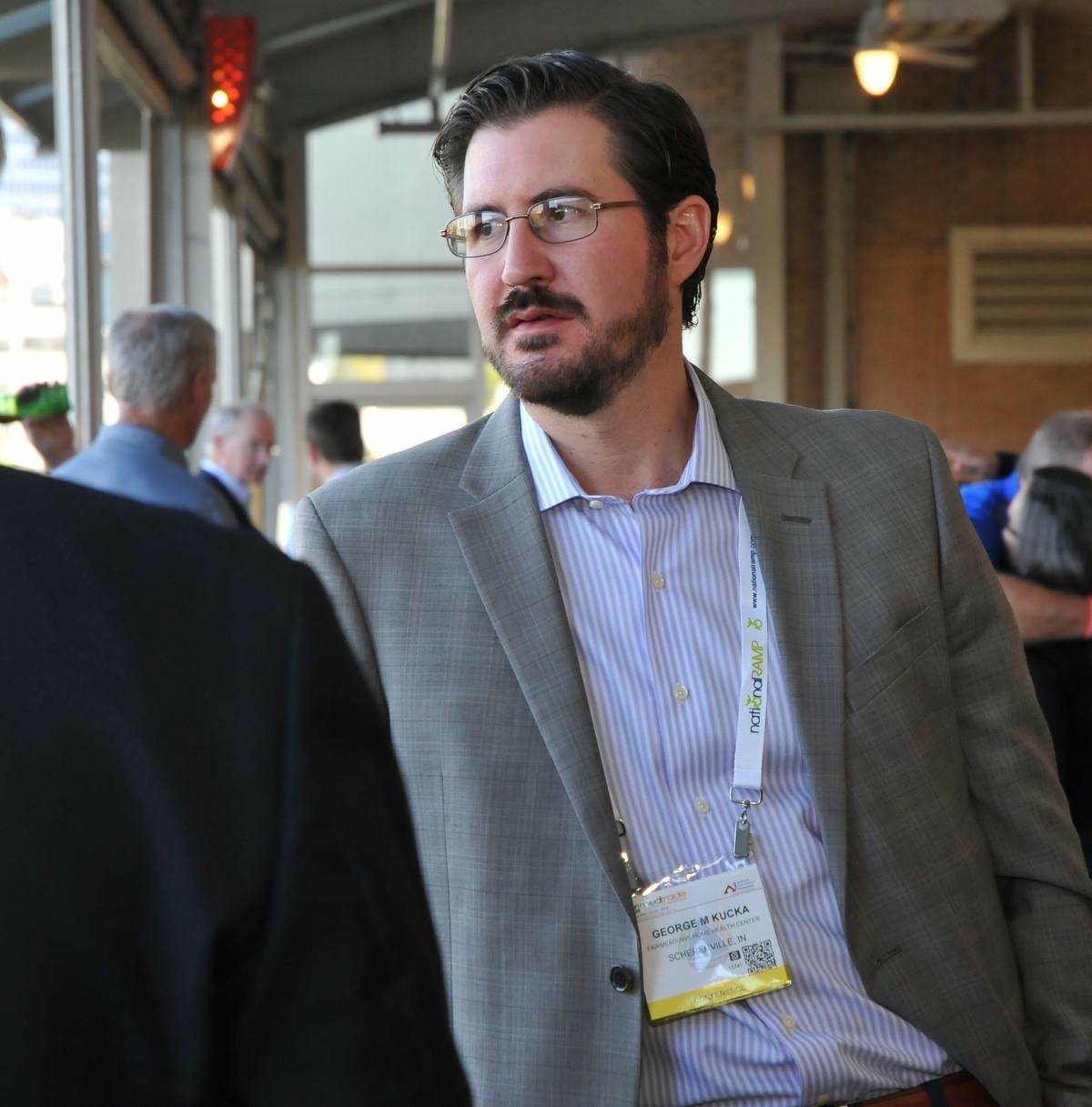 "After learning about competitive bidding and the major challenges, I actually thought it was a good opportunity to come here without an HME background," says the 38-year-old Kucka (shown here at AAHomecare's Stand Up for Homecare reception, held during Medtrade 2014). "I wanted to see if we could create a survival story and a success story. We joined forces and I'm now a partial owner. It was a mutually beneficial move—using my experiences in finance—plus my dad's knowledge of the industry."
Three and half years after Kucka joined the company, Fairmeadows remains a potent regional player in Indiana, with locations in Hammond, Laporte, Rensselaer, Valparaiso, and Schererville. During that time, the company has kept its hand in traditional DME, while gradually moving away from entitlement business, and entering new businesses.
"We purchased a gas supply company, so we are basically buying liquid oxygen in bulk and we transfill ourselves, and we supply nursing facilities and local businesses that need oxygen," explains Kucka, an ardent supporter of AAHomecare. "We have taken the approach of being the community supplier of oxygen, so whether you are a nursing facility, fire department, doctor's office, dentist office, we will provide you with your oxygen."
Fairmeadows did not win any competitive bidding contracts, but the entire company is determined to adjust to that reality. "Frankly, the national companies have been given the market on a silver platter from a Medicare perspective," says Kucka. "Because of the pricing, our level of service with Medicaid has made us an attractive provider. We focus on enteral and CPAP, because that is not age specific. We have been able to keep our service level up due to the diversity we have with providing business-to-business oxygen."
With an accountant's keen eye, Kucka has taken a long look at the financial metrics that some HME providers have historically ignored. The large margins are gone, but he sees opportunity for creative and determined providers.
As a relative newcomer to the industry, Kucka has made it a point to attend every Medtrade, plus one Medtrade Spring. "I go to Medtrade to truly see how the industry works, the key players are, product options, the networking, and ideas for process improvement on the IT side," says Kucka, an avid skier and golfer who once notched a score of 70. "You can't make great business decisions with your eyes only on our your own business. We want to see what is happening across the country, and Medtrade is our way of opening our eyes to the rest of the world of HME."