Expo Floor Highlights

New Product Pavilion
Sponsored by: HomeCare Magazine
Product display pedestals provided by: KC Fixtures
Medtrade's New Product Pavilion is where you will find the most innovative HME products which have been on the market for less than one year. Attendees of Medtrade vote on these products for three Providers' Choice awards.

Retail Spotlight: Hands on with Incremental Sales
Sponsored by: VGM Retail
This area on the expo floor will showcase three popular product categories and the complementary items that can generate additional revenue for your business. Not only can you view these incremental sale items, you can get hands-on and put your merchandising skills to the test! The product categories that will be featured are CPAP, hospital beds, and pain management.

HME State Association Lounge
Visit the State Association Lounge (adjacent to AAHomecare booth) to learn more about how your local association benefits you and how you can get involved.

New Exhibitor Collection
The New Exhibitor Collection features companies who are making their debut at Medtrade.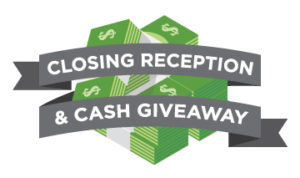 Closing Reception & Cash Giveaway
Sponsored by: Mediware, PPM Fulfillment, and AAHomecare
On Wednesday, October 17, don't miss the Closing Reception on the expo floor from 3:30 pm – 5:00 pm where there will be food, drinks, and a $5,000 cash giveaway! When attendees pick up their badges they'll receive a card to be stamped by sponsors. Once that card is complete, the card will be turned in and a drawing will take place at 4:45 pm in the Mediware booth. Someone will win $5,000! Must be present to win.