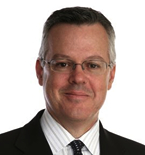 LAS VEGAS – ResMed (Booth #706) is one of many exhibitors that will once again have a large presence on the Expo Floor at Medtrade Spring, scheduled for March 10-12 at the Mandalay Bay Convention Center in Las Vegas. Medtrade Monday chatted with Jim Hollingshead (pictured), president of ResMed, Americas, to assess the mood and expectations prior to the show, which starts in less than a month.
Greg Thompson, editor of Medtrade Monday: ResMed decided to exhibit at a 900-sq-ft booth this year at Medtrade Spring. That is one of the largest booths at the show. Why did you decide to "go big" this year?
Jim Hollingshead, president of ResMed, Americas: We want attendees to know that ResMed has a lot to offer Medtrade Spring attendees, and the industry as a whole. We offer end-to-end solutions that make major strides in making therapy more comfortable, and helping patients stay compliant. We have the right combination of comfortable, effective products—and data solutions that help pave a smoother, faster path to reimbursement for our HME customers.
Thompson: Why should attendees visit the booth this year?
Hollingshead: We've got some new masks that are quieter, lighter, and more comfortable than anything that has come along before. The AirFit™ P10, which we launched in January, is 50% quieter than its predecessor. It is also lighter, weighing just over 1.5 oz. We've also redesigned the headgear so that there are no clips or buckles, but can still be adjusted to fit patients of different sizes and shapes.
Our research has shown that all of these things work together to give patients an average of 40 more minutes of sleep per night, which goes a long way toward encouraging compliance. The best way to understand how impressive this mask is to come by and see it in person. We will have masks available for fitting and demonstration so that attendees can see for themselves.
Thompson: What is your level of optimism these days concerning the sleep industry, particularly for the DME sector?
Hollingshead: There is no denying the fact that HMEs are facing a difficult business climate today; challenging reimbursement rates and competitive bidding are creating real and significant challenges for the industry. Despite this, we're optimistic about the future. We know that there is an increasing awareness of sleep apnea and other sleep disorders, and we know that more and more patients are looking for answers to their questions about their health. ResMed wants to partner with HMEs to help them streamline their business so that they get more patient referrals, better compliance, and a faster path to reimbursement.
To visit ResMed at Medtrade Spring, Click Here to Register for Attendance.