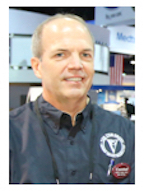 LAS VEGAS – Jim Greatorex is an HME veteran, and while his experience helps him everyday, the owner of Maine-based Black Bear Medical is always ready to learn something new.
"This is not your father's HME industry," says Greatorex. "Evolution is happening, and there are still some great opportunities. If you are willing to put away preconceived notions and explore educational opportunities at Medtrade Spring, you can learn about viable ways to expand your business and capitalize on new concepts and markets. It's imperative to get out of your comfort zone, network at Medtrade Spring, and make the trip to Las Vegas."
The Innovative HME Retail Product Awards, a hit at last year's Medtrade, are back at Medtrade Spring. Greatorex and a committee of judges will sort through the latest products to find the best new retail items, all with the aim of helping providers bring in vital new revenue streams. All products will be judged on functionality, quality/durability, aesthetics/style, environmental sustainability, and ease of retail set-up and pricing.
The following five (listed here in alphabetical order) took home the prize last year during the inaugural 2013 Innovative HME Retail Product Awards:
• The Royal-EZ from Comfor Tek Seating, Alberta, Canada
Randy Schellenberg, president of Comfor Tek: "This is an innovative product that addresses a very real issue—how to accommodate mobility challenged people—while providing respect and dignity
• iWalk2.0 Hands Free Crutch from iWalk Free, Long Beach, Calif
Brad Hunter, director of Business Development, iWALKFree Inc: "The product is new, yet solves an age-old problem. It is retail ready. This product functions well, is appropriately priced for retail, is packaged efficiently, and merchandises itself based on package design.  
• EVE from Joint Solutions Inc, Miami, Fla
Ed Marti, president, Joint Solutions Inc: "It is an ideal product [pulse therapy/heat therapy] that potentially any woman will want to purchase, either for herself, her daughter, or her grand daughter, since many woman suffer from painful menstrual craps.
• Socks from Nufoot – Beyond Barefoot, Diablo, Calif
Patricia Zweiback, president: "I think that the judges and the consumers like Nufoot because it is a big improvement over existing footwear solutions. Comfortable, affordable, and useful footwear is a universal need among all people, be they elderly or younger.
• Briefs and Underwear from Unique Wellness, Brooklyn, NY
Steve Goelman, CEO, Unique Wellness: "We were the first incontinence product with the ability to show how a brief/underwear is not just the product itself and how it can perform—but how it can be displayed to the retail eye.
New products selected for the March 10-12, 2014, Medtrade Spring will ultimately be featured in a retail products roundtable conference session called The Best New HME Retail/Cash Opportunities, moderated by Greatorex. Winning manufacturers will be allotted 5 to 7 minutes to discuss their product with audience members.
Winning products will be featured in a special retail display in the New Product Pavilion on the show floor. Whittling down the bounty of products to just five last year was a tall order, and Greatorex and the other judges expect an equally difficult selection process in 2014.
To register for Medtrade Spring, CLICK HERE.